The core data is stored in an unstructured manner with no conventional naming practices, scattered across the numerous folders of different technical personnel. The lack of an integrated database creates additional effort and inefficiency in the preconditioning, sorting, and manual transfer of required data between different disciplines, which diminishes the potential value that core data could bring.
The purpose of the project is to come up with a well-sorted and fully standardized core database that provides users with multiple functionalities, including but not limited to smart search, multi-filtering, visualization, and access through commonly used industry software.
Core data plays an essential role in the decision-making process at different stages of the field development, starting from the early exploration and appraisal phase through the entire extent of the development. The presence of readily available, sorted, QC-ed, and unified core measurements can boost efficiency during key decision-making points such as reserve re-evaluation, new well delivery, and lower completion selection, as well as aid subject matter experts during reservoir-related studies and research.
The main business benefits of our products are:
– Readily accessible, well-sorted, fully standardized, and validated core database from anywhere in the world;
– Integration of different core measurements;
– Potential to scale up to other regions and fields.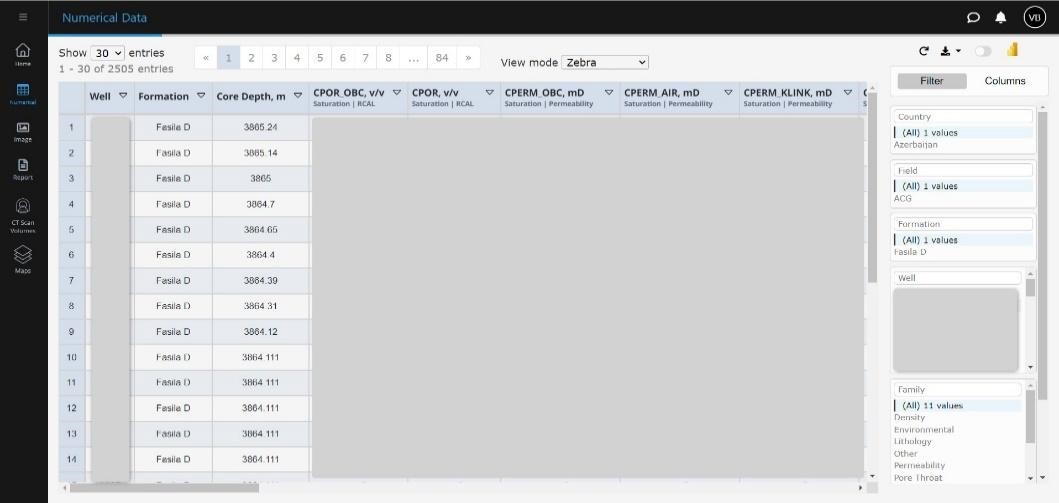 The project aims to deliver a fully automated web-based application with a user-friendly user interface. The application will comprise several pages dedicated to different data types, including numerical, image, report, and CT scans as well as separate admin functionality that will enable subject matter data managers to maintain the database.
The project objectives are:
– QC and expand the existing Core database.
– Establish core inventory structures and standards.
– Develop a web platform that is deployed on the customer's servers, making it readily available for all users.
– Boost the value of core data by removing inefficiencies and the additional effort required for preconditioning and sorting.
Alongside the development of the web application, the project team will run through and filter all reports and partially QC source lab measurements, digitize pdf files where needed, combine and clean excel sheets, extract necessary SEM and Thin Section images from lab reports, and organize the database structure through close collaboration with the subsurface specialists and global core experts.