Analytical software combines cutting-edge digital technologies as well as industry know-how in order to simplify and assist engineers in both their day-to-day tasks as well as strategically important decisions. Using Cloud based technologies with state-of-the-art ML techniques, ePattern is web-based pattern management that allows:
– engineers to extract most of their data and see beyond simple visualization techniques
– multi-disciplinary teams to access and evaluate Pattern Health`s across the area
– to perform detailed analysis of key diagnostic parameters
– to compare KPI`s against targets and flag deviations predefined scope
 ePattern helps to analyze oil and gas parameters pertaining to drilling and production operations as well as the visualization of wells and completions
By applying ML techniques, software allows engineers to extract more value from data and streamline analysis/decision workflows.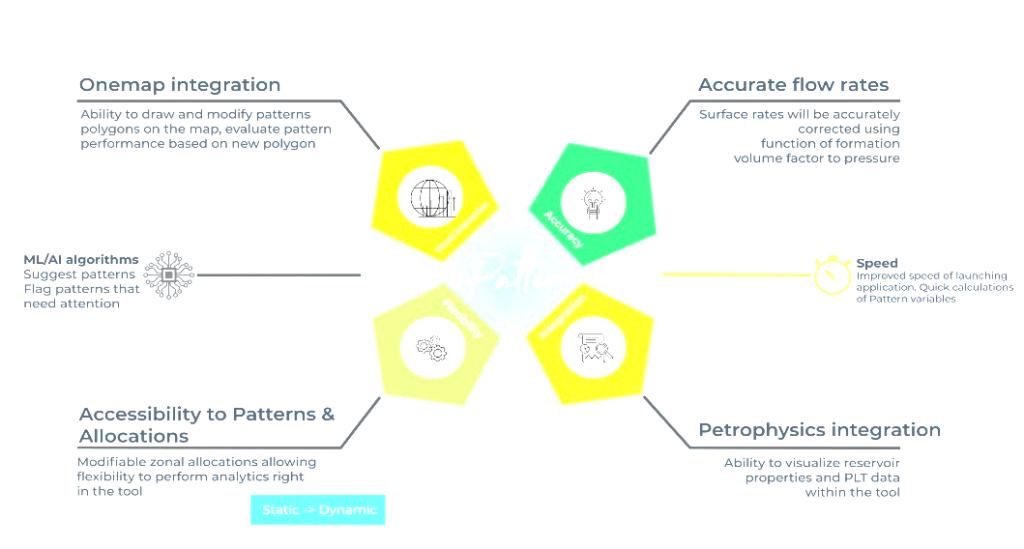 Streamlining analysis/decision making workflow allows engineers to reduce spent time without any reduction in quality of decision making. ML techniques additionally allow engineers to further increase the quality of their decision making by providing data/relationship that were not visible beforehand.
Due to the nature of the ePattern toolkit, it could be used anywhere that data-driven analysis is required. With the modular nature of ePattern, usage in a new field of interest could be as easy as switching up the core visualization package and adding custom-made ML and calculation modules tailored specifically for those specific fields. Due to the cloud nature of the toolkit, no change in infrastructure is required. ePattern could be used in any field that is data-driven and has an existing database.